Parts > Sway Bar Links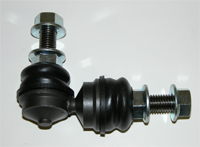 XRF Sway Bar Links are very strong and durable.
XRF uses polyurethane and thermoplastic bushings to give precision and durability.
XRF provides wrench flats or allen key sockets on all studs so that they can held while hand-torquing the nuts.
Call or email us to get our price list or to get set up for ORDER ONLINE and price checks.