Parts > Tie Rod Ends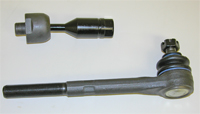 Both XRF tie rod ends and rack and pinion ends are made to be much stronger than OEM.
XRF uses SAE1045 and SAE4140 steel on these parts to give greater strength and durability. OEM stud pull-out specification is >2550kg, while XRF stud pull-out tests at >4520kg.
XRF's stronger housings allow us to increase our stud swing from 22 degrees to 23 degrees to give greater wheel travel and prevent ball stud cam-out on slippery roads or when the wheel falls into a pothole.
Call or email us to get our price list or to get set up for ORDER ONLINE and price checks.


Parts > Idler Arms

XRF Idler Arms are forged rather than cast. The general rule of thumb is that a casting of the same material must have four times the mass to have the same strength.
Internally, the XRF "Top Hat" bearing design ensures that the arm will not become loose and cause toe change.
XRF has added an indexing bar to the arm to ensure that the idler arm is installed correctly.